Sanctity of Human Life Sunday
We are pleased to offer the following resources to help churches and individuals proclaim the gospel and champion the sanctity of human life on the third Sunday in January and every day of the year.
For more information on Sanctity of Human Life Sunday, click here.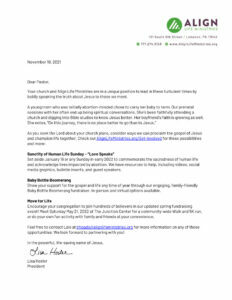 A Letter to Pastors and Churches
An invitation to partner together for Sanctity of Human Life Sunday 2022.
Download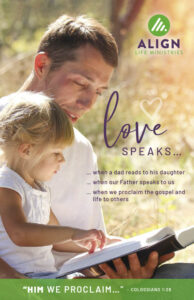 Bulletin Insert
January 2022 "Love Speaks" Sanctity of Human Life Sunday Bulletin Insert. (For hard copies, please send an email to info@alignlifeministries.org. Include the number of inserts you would like and the date by which you need them. You can arrange to pick them up at one of our locations, or we can mail them to you.)
Download PDF
Sanctity of Human Life Sunday Message - "Love Speaks"
Andrew & Josie Client Story
Post-Abortion Healing - Heather's Story
Sanctity of Human Life Sunday Social Media Graphics:  
Sanctity of Human Life Sunday Powerpoint Graphics: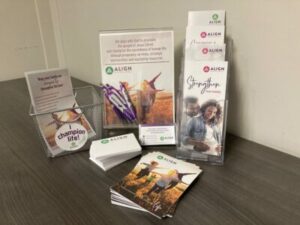 Table Displays
Help people become more acquainted with the vision and mission of Align Life Ministries – request information to display. Table display arrangements typically include a variety of Align Life Ministry brochures and giveaways, and can be customized to fit your audience.
Display kits can be picked up / returned as needed. Please contact Lora Brock, lbrock@alignlifeministries.org, 717.274.5128 x 311 with requests / questions.
Request A Speaker
We have a team of speakers who would be delighted to present to your group on any of the following Sundays: January 9, January 16, January 23, and January 30. Our presentations range from 5 minute mission updates to 20-30 minute sermons, and they can also include powerpoint slides and / or client story videos as appropriate. A set number of speaking slots are available on a first come, first serve basis. To request a speaker, please click here.
Monthly Prayer Sheet
Sign up to receive our monthly prayer sheet.  Email and hard copy version available.
Move for Life – May 21, 2022
Consider getting involved with our Move for Life as a participant, volunteer, or sponsor.