Sanctity of Human Life Sunday
In these post-Roe times, we celebrate the Lord lifting the scourge of abortion from our nation while recognizing our mission to proclaim the gospel and champion the sacredness of human life is far from finished. Voices that champion abortion seem to roar louder with each passing election, and confusion about the intrinsic value of humanity abounds. In the midst of the clamor and seemingly increasing chaos, what is God calling us to do?… Read more.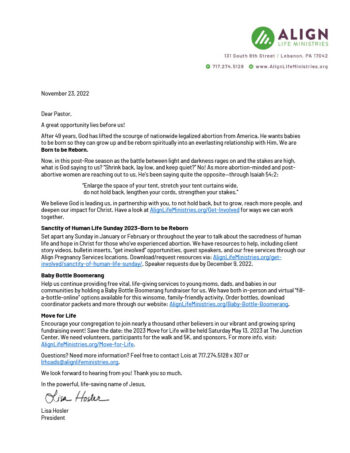 A Letter to Pastors and Churches
An invitation to partner together in 2023 for the gospel and life.
Download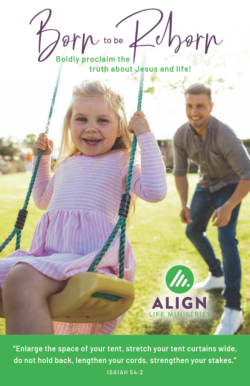 Bulletin Insert
2023 "Born To Be Reborn" Sanctity of Human Life Sunday Bulletin Insert. (For hard copies, please send an email to info@alignlifeministries.org. Include the number of inserts you would like and the date by which you need them. You can arrange to pick them up at one of our locations, or we can mail them to you.)
Download PDF
Post-Abortion Healing - Heather's Story
Sanctity of Human Life Sunday Social Media Graphics:  
Sanctity of Human Life Sunday Powerpoint Graphics:  
Monthly Prayer Sheet
Sign up to receive our monthly prayer sheet.  Email and hard copy version available.