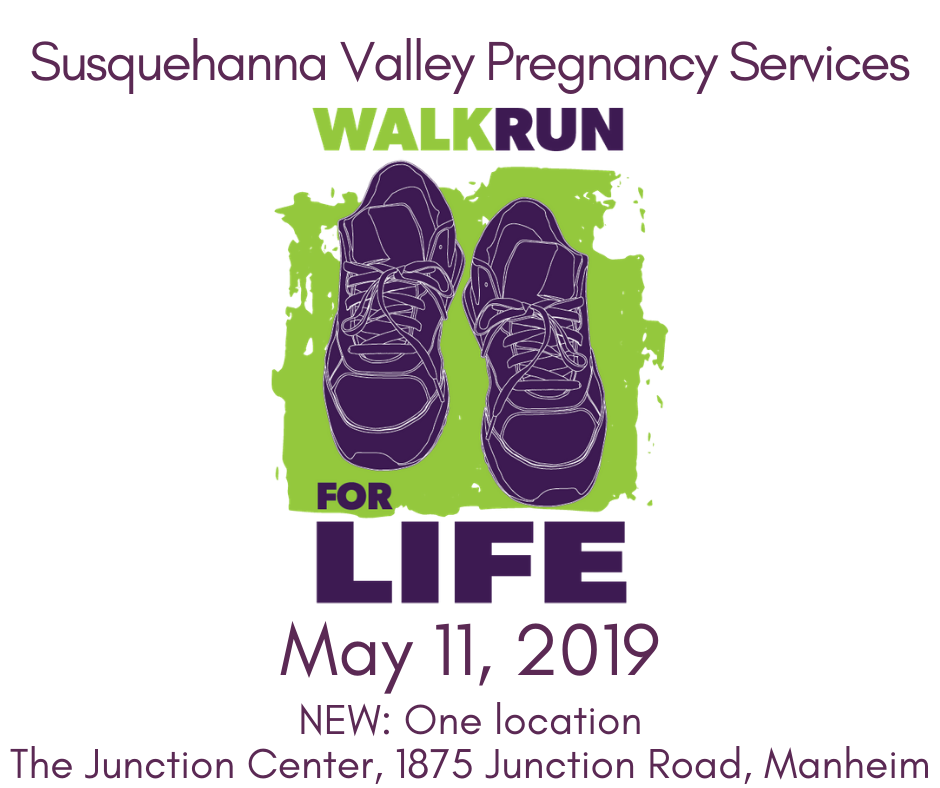 Team Leader Information for the Walk Run for Life 2019
Team Leader Informational Sheet
Thanks so much for championing life as a Team Leader for the 2019 Walk Run for Life! Here are some ways to help you get started.
Register online at www.alignlifeministries.org and create your team name.
Setup your personal fundraising page.
Set a goal ($600 is very attainable—just 24 people at $25 each).
Share your fundraising page on social media or through email.
Post the "Walk promo" video on your Facebook page with the sponsor link.
Invite people to sponsor you or create their own teams.
Family, friends, co-workers, your boss, neighbors, your church, small group, youth group, senior group, young adult group, etc.
Local businesses that you frequent (hair salon, restaurant, etc.)
Join the Team Leaders Facebook page (SVPS Walk Run for Life Team Leaders) to receive updates and access digital recruiting tools as well as tips and encouragement from other Team Leaders.
Review the pledge sheet for:
Date and location
Walk & 5K Run schedule
Kids' Zone information
Prizes and giveaway details
Ask your church to use bulletin inserts, give a pulpit announcement, display a poster, set up a display table, and/or invite an SVPS speaker.
Most of all…have fun with it! You get to socialize and connect (or reconnect) with people. Plus you're offering a great opportunity for others to champion life in our community. Your enthusiasm and excitement will be contagious!
The Power of Personalization
5 Tips to Personalizing Your FundEasy Page  
Edit or Update your Page Title: Change the title from "Walk Run for Life" to "Walk with me for LIFE!" or "Champion LIFE with me!" etc. Tap into your creativity to make a unique call to action at the top of your fundraising page.
Edit Profile and Social Sharing Settings: Here is where you can edit your personal information like name and profile photo, as well as adjust the social sharing settings for automatic emails and tweets.
Edit and Update your Goal: Change your fundraising goal amount to the one YOU want to achieve!
Photos or Video: Upload a photo of yourself, photos that pertain to SVPS and/or the Walk Run, or photos of you and your "team" to create an instant personal connection from you to SVPS. Or record a short, personal video straight from your heart as to why you are involved. If you can gather the courage to hop in front of your smartphone and press record…then do it! Trust us, people want to hear from YOU.
Write a Compelling Welcome Message: Your welcome message is one of the most important parts of personalizing your FundEasy page.
3 Quick Tips to Writing Your Welcome Message
Share why YOU care. Why are you involved with the Walk Run for Life? Is there a connection to your personal story or testimony? Do you have a volunteer experience? Were you a client of SVPS at one time? Have you had an unintended pregnancy or abortion that you are willing to share with your supporters to convey your passion for life? Simply sharing from your heart about your genuine connection with SVPS is an awesome way to appeal to others and invite them into the joy of supporting the AMAZING work God is doing through SVPS. They can either join your team or sponsor you.
Share a compelling fact or statistic about SVPS. For example, in 2018 13 babies were saved from abortion. Since 1985, at least 539 babies have been saved.
Link to a compelling testimony or success story from an individual or couple that SVPS has served. There is nothing quite so powerful as seeing the story of someone whose life has been transformed! Check out our Youtube page for videos to share. https://www.youtube.com/results?search_query=SVPSinPA
Keeping People in the Loop
Sharing Updates
Keep it fresh: Visitors to your fundraising page will read your updates and see your fundraising progress…and they might even learn a few things about YOU and SVPS in the process!
Share it: The point in writing an update is to share it! When you write an update and then click the email or social option, FundEasy will include a link in your email or post that directs the reader back to your FundEasy page.
7 Quick FundEasy Update Sharing Tips  
Talk about your progress – share how close you are to reaching your fundraising goal.
Thank specific donors.
Talk about something unique that connects you to SVPS.
Share a piece of your welcome message.
Include a photo with your update to make it more personal and increase the impact.
Talk about SVPS! Share a compelling fact or statistic about SVPS, link to the SVPS website (alignlifeministries.org), etc.
Don't underestimate the power of a direct ask: be sure you actually ASK FOR SUPPORT!