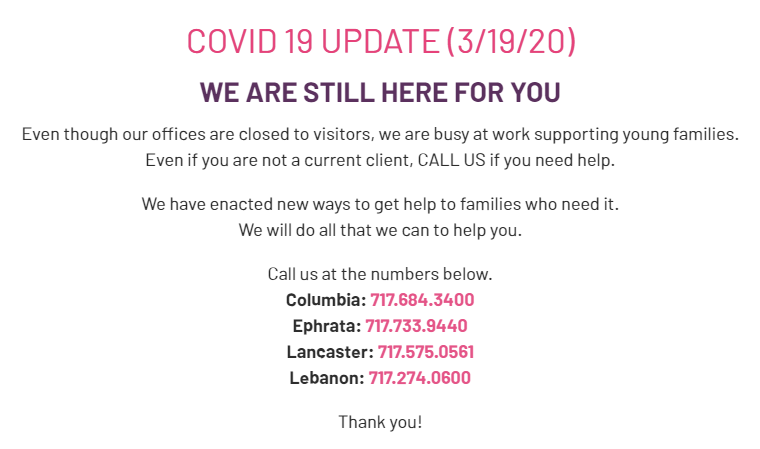 How We're Serving Clients in the COVID-19 Pandemic
As we get through these unusual times together, we wanted you to know how God's moving at Align Life Ministries.
"I can't believe you're delivering these diapers to my front door! You guys are amazing!"
We're hearing these words over and over again from clients during this COVID-19 pandemic.
And actually, it's JESUS who is amazing! He's the one who's providing creative ideas, resources, and the loving perspective we're sharing with clients at this critical time.
Here's how we're currently serving:
We're staying connected with young moms and dads by phone, having suspended in-person services in compliance with the Governor's recommendations. These calls enable us to assess clients' urgent needs—including those contemplating abortion—and provide insights and life-giving education.
Every day we hand-package diapers, formula, and/or baby wipes according to each family's situation. A staffer takes the package to the client's home, knocks on the door, steps back to maintain safety protocols, and warmly greets the client when she opens the door. The staffer asks how she's doing and offers to pray with her. And there are smiles all around.
We added a pop-up message on our client website that says, "We Are Still Here For You" to let people know we're actively providing essential services.
One client called and said, "I'm desperate! I have a newborn baby and I'm almost out of diapers. I walked to the grocery store and they didn't have any! Can you help?!" We were delighted to be able to deliver diapers to her the very next morning.
If you hear of any young parents who are struggling and in urgent need of diapers and/or formula, please direct them to our client website at AlignPregnancyServices.com. We are regularly assessing the crisis and will continue providing services for as long as we're able to.
Your partnership is enabling us to serve people on the frontlines of this new battle. We know God uses difficulties to bring people to Himself. Please pray with us that many of our clients will commit their lives to Jesus during this time.
"The name of the Lord is a strong tower" (Proverbs 18:10).
In the powerful, life-saving name of Jesus,
Lisa Hosler
President